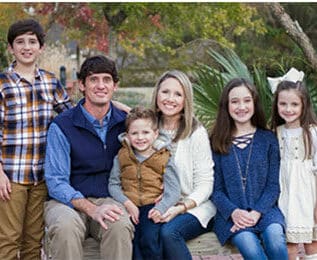 David Henry
Dr. Henry earned his dental degree from the University of Mississippi School of Dentistry, after earning his bachelor's degree from the University of Mississippi and his master's from the University of Tennessee-Chattanooga. He has engaged in extensive postgraduate education in numerous general dentistry topics and continues to take many more than the state-required hours of continuing education each year to stay on top on the newest advances in dentistry.
Dr. Henry is active in the community as a deacon and a guitarist in the praise band at First Baptist Church in Clinton. He and his wife Amy have four beautiful children, and in his spare time he enjoys playing guitar, reading, doing yard work, and spending time with his family and at church activities.
Dr. Greer was raised in Clinton, MS where he graduated with honors from Clinton High School in 2010. At Clinton, he was a record holding pole vaulter for the track & field team. Prior to graduating high school, Dr. Greer enlisted in the Mississippi Air National Guard as a Loadmaster in the 0183 Air Lift Squadron where he is still an active member.
Dr. Greer continued his education at The University of Mississippi (Ole Miss) and graduated Cum Laude with a Bachelors of Science in Mechanical Engineering and a minor in Chemistry in 2016. While at Ole Miss, Dr. Greer continued pole vaulting as a scholar athlete, was an active member of Sigma Chi Fraternity and was a founding member of the Ole Miss Student Entrepreneur Association.
After graduating from Ole Miss, Dr. Greer attended the University of Mississippi Medical Center School of Dentistry where he served as class president and was elected class marshal. He was the recipient of several awards including: the Pierre Fauchard Academy for outstanding academic achievement, the Dr. C. Wayne Caswell Pankey Philosophy Award for demonstrating outstanding skills in the area of occlusion, the Restorative dentistry award for outstanding skills in providing comprehensive restorative care and the International College of Dentist award for demonstrating leadership as a dental student and future leadership potential.
Dr. Greer is a member of the American Dental Association and the Mississippi Dental Association and continues to improve his dental education with an emphasis on dental implants, endodontics, and esthetic dentistry.
Dr. Greer is married to Lauren Greer who is also a Clinton graduate and is his high school sweetheart. The couple now lives in the Fondren area of Jackson with their dachshund mix named Leia. He enjoys spending time with his wife and dog as well as coaching local high school athletes in the sport of pole vaulting.